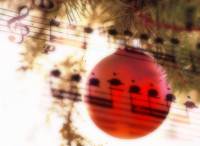 The hymns of Advent and Christmas offer a wonderful way to pray. Music is a powerful part of my prayer life, because music is a prayer of the heart and it makes detours around my thinking, worrying, and list-making brain to slip God's love gently into my soul and heart.
One song that always moves me is Tim Manion's "Emmanuel." The words of the chorus are like a prayer that takes me into a deeper awareness of God's profound love for us: "Emmanuel, Emmanuel. What are we that you have loved us so well?"
I love the name Emmanuel and think that its meaning, "God with us," is exactly the reminder we could use each day. But my favorite line in the song is, "What are we that you have loved us so well?" In just a few words, Manion captures the sense of awe that we humble creatures have, as we realize that we really are loved "so well" by the God who made us and loved us into being. A love unearned and received with our doubts that we are worthy, and yet our Emmanuel loves us.
But the song that stops me each time is "O Holy Night." Fr. Greg Boyle, SJ, who supports former gang members in Los Angeles through Homeboy Industries, points out words I had never noticed before in the first verse.
O holy night, the stars are brightly shining

It is the night of the dear Savior's birth

Long lay the world in sin and error pining

'Til He appeared and the soul felt its worth.
"Sure it's a song about Jesus and Christmas," he says, "but how is it not the job description of each one of us as human beings?" He says the song is about us remembering that we belong to one another and letting each soul feel its worth by letting people know, "You are exactly the person God wants you to be—and God is not disappointed."
It feels like exactly the right thing to remember in this season.