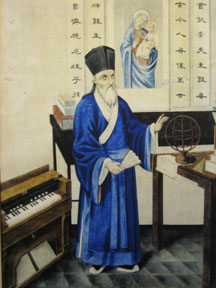 Today marks the 400th anniversary of the death of the Jesuit Matteo Ricci, who was the first Westerner in the court of Imperial China.  He is one of my heroes, not only because I am fascinated by the history of China, but also because his ministry represents in my mind a model for the future of interreligious dialogue, globalization, and even Catholic mission.  (See the China Daily story.)
Ricci's was a very Ignatian approach to evangelization.  He entered China hoping to first learn about the country and its people.  His first published work there, in fact, was on friendship (Jiaoyou lun, 1595).  Mindful of the maxim to find God "in all things," he wrote to his confreres in Europe that China's vast civilization was certainly not bereft of God's presence–only a kind of European (and even Catholic) triumphalism could posit such nonsense.  He paid attention, hoping to discern the ways God was already revealing himself to the Chinese, even before he could share with them the story of Jesus.  He donned the garb of Buddhist monks (although he himself had little tolerance for Buddhism), but later understood that the way to gain the respect of the literati was through presenting himself as a Confucian scholar.  The picture here shows him in that stage of his ministry.  Ricci went on to write on astronomy, mathematics, cartography (see the Library of Congress exhibit), mnemonics, philosophy, and Christian doctrine.  He made a lasting impact on both China and Korea; both he and his Chinese friend (and convert to Catholicism) Paul Xu Guangxi have been talked about as candidates for beatification.
Further viewing: Vatican exhibit on Matteo Ricci (You Tube)
Further reading: Ronald Modras' chapter on Ricci in Ignatian Humanism (Loyola Press, 2004).