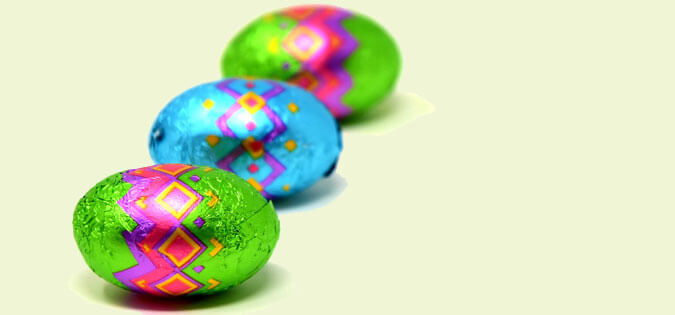 When we were children, my brother and I used to eagerly await awakening to Easter baskets full of candy, which we soon devoured. As an adult, I have mostly lost my sweet tooth, but I still like the occasional small piece of chocolate. It is a treat to unwrap slowly just one foil-wrapped chocolate egg, savor its taste and texture, and let that be enough.
This Easter, I have been praying about all the good gifts that I have received from God, inspired by the image of many colorful, foil-wrapped eggs. Every day I have been choosing one gift that God has given to me or to my family. I then pray over that one gift, savoring it and giving thanks for its goodness. Some days it is a gift from the natural world, such as having access to clean water, or a favorite tree. Most days, though, it has been choosing a different relationship that has been a blessing in my life.
In the last year, I experienced several losses, most notably the death of my stepdad and the suicide of my first serious boyfriend. It's been an especially helpful practice to go back and to retrieve memories of gifts received in those relationships. In the case of my stepdad, it's required more than one day of reflection. He was a complicated and sometimes difficult man, but I have discovered in the retrieval of memory many consolations. My stepdad and I used to watch sports together on weekends, and I've noticed how in a certain sense, his presence remains with me as my husband and I now watch football, baseball, or hockey games together. I can no longer call my stepdad on the phone to reflect on a favorite team's loss or win. However, I'm grateful not only for the memories of shared past experiences, but also for the ways in which those experiences still inform my life today.
Choosing a different relationship each day for reflection helps me to hold life in balance and perhaps to get a little closer to Ignatian indifference. While I am especially grateful for my husband and two adult children, it is good to keep in mind the wide variety of relationships that I am lucky to be a part of: friendships, colleagues, a small but caring extended family, a community at work, and another one where I volunteer. For me, it is important not to put all my "eggs in one basket," so to speak.
Reflecting on these diverse gifts also helps me to put energy into loving others in a variety of relationships, both personal and professional. We see a similar movement in the readings from the Acts of the Apostles, where the friends of Jesus experience the Risen Lord and then go on to minister to others. Their energy to love arises from their experience of the Resurrection in their own lives and their desire to pass on that love to others. Each one of us also has that opportunity this Easter, to unwrap the colorful gifts that God has given to us, to savor them, and then to share our gifts with others.