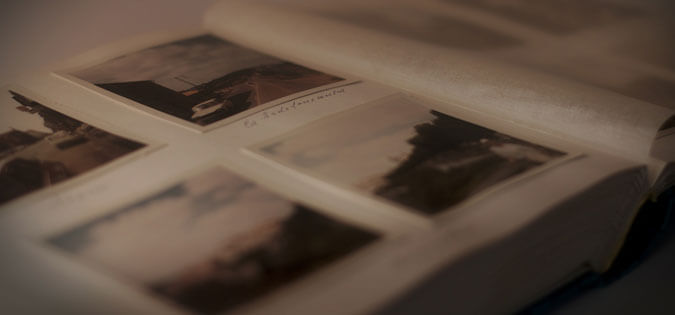 Last week I meditated on how God has been present in every moment of my life. In order to do this, I took out an old photo album that my mom had given me after I finished high school and left home. I consider myself blessed that Mom put together this album of photos beginning with my birth and continuing through high-school graduation.
Mom's efforts fill about 15 pages of the album, and my entries fill the remainder of the album: my graduation, my first marriage, the arrival of my two sons (but not yet the arrival of my third child, a daughter), and family pictures of the first years of my sons' lives. While going through the album, I was struck by the beauty of family relationships. Pictures of me with my dad, mom, sister, and brothers all surprised me as I noticed for perhaps the first time the love and tenderness expressed among us.
Enjoying this reminiscing, I stopped at a photo of me, age 14, blowing out candles on a birthday cake. I scanned the faces of the kids at the party. Mom must have been feeling proud to host my first boy/girl party, because there's not a girl in the photo except me. It's all boys behind me.
One boy in particular caught my eye. I remembered his name and that he had been one of those steadfast friends, not a boyfriend, but a guy who easily made and kept friendships. I hadn't seen him or any of the other kids in the picture for more than 40 years, but I was curious as to where life had brought this old schoolmate.
I decided to look for him on Facebook. It didn't take long to find him, so I sent a friend request, and we exchanged pleasantries via instant messenger: where we live, our careers, a few details of spouses, children, and grandchildren, and then each of us closed the conversation with best wishes to the other. It was all very pleasant but not very exciting. After our correspondence, I thought about the phenomenon of reconnecting with old acquaintances followed by an anticlimactic feeling.
Remembering that my goal was to see how God has been present in every moment of my life, I brought my experience of reconnecting with old friends into my prayer time. I recalled other friends that I've reconnected with, both male and female, and the now-familiar uninspired feeling. I had never taken the time to reflect on why those reunions had been enjoyable but not fulfilling.
In prayer, I realized that reflecting on the memory was more enriching and satisfying than actually reconnecting with an old friend. I don't consider this a bad thing; in fact, I consider it a grace and a blessing. It acknowledges where I've come from, my roots, my past experiences, and the way the people in my past have helped to shape who I am today. It is knowing where I am now, without regret or desire to return to the past.
I saw clearly how the fond memory of my 14th birthday would only impact my current life if I acted upon it, as when someone reconnects with an old boyfriend or girlfriend with a desire to rekindle the flame. This transitions the memory into something new, rather than bringing the memory to fulfillment.
This understanding is especially powerful in respect to unpleasant memories. After I finished reminiscing with the pictures in that old photo album, I realized that I had passed over the bad memories without incident. They held no power over me. I thought in particular about an old memory that used to haunt me, and I marveled at this newfound capacity to move beyond it. I saw the event as something that had happened in the past. The painful details were absent, and I was able to pray for those who had been harmed by the event, including me.
This week as I meditated on the grace to see how my past life story connects me today with God's presence and love, I realized that I felt a sense of peace with all that had gone before, the good and the bad. God was gently showing me that just as I could accept the good memories, I could accept the bad memories without judgment or recrimination.