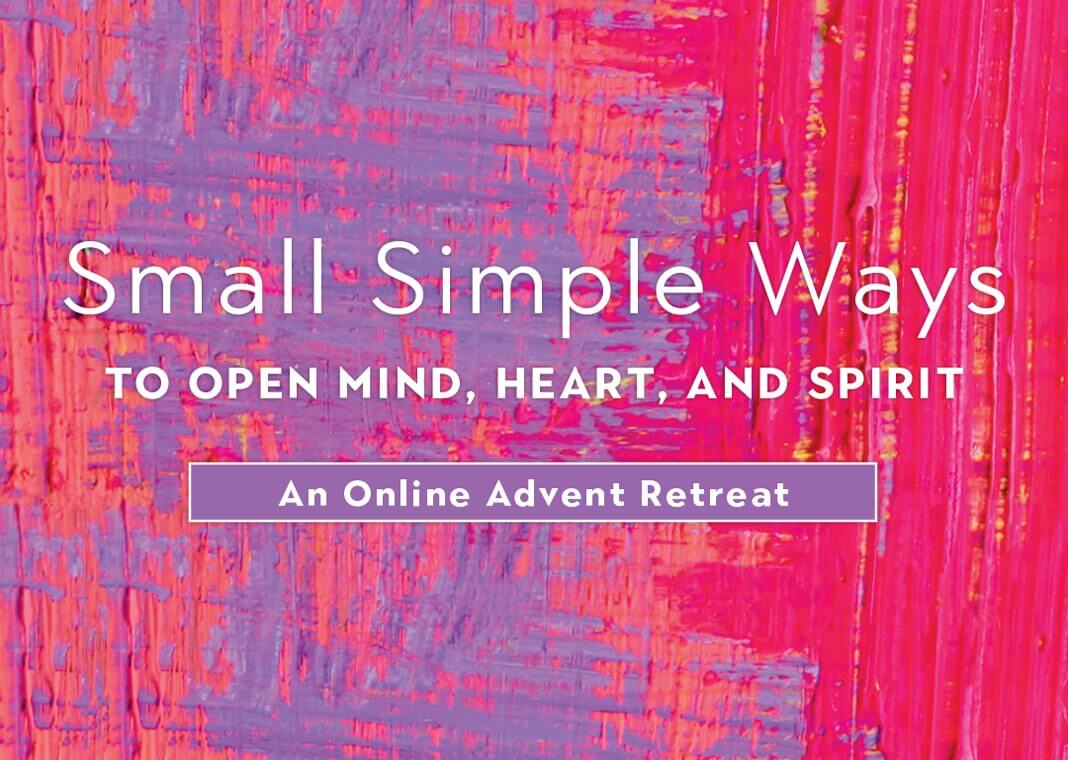 This post is part of the Advent retreat, "Small Simple Ways to Open Mind, Heart, and Spirit." Watch the retreat introduction video here.
During Advent we often talk about "opening" our lives to God and to the coming of the Christ Child. But what does that look like? Perhaps it would help if we looked at specific aspects of ourselves. This week let's ponder what it means to open the mind to God.
The mind usually appreciates something tangible on which to focus. So let's look at the scene with Mary and the angel Gabriel. Yes—I know you've read and heard this scene a thousand times by now, but let's think about it.
In the sixth month the angel Gabriel was sent by God to a town in Galilee called Nazareth, to a virgin engaged to a man whose name was Joseph, of the house of David. The virgin's name was Mary. And he came to her and said, "Greetings, favored one! The Lord is with you." But she was much perplexed by his words and pondered what sort of greeting this might be. The angel said to her, "Do not be afraid, Mary, for you have found favor with God. And now, you will conceive in your womb and bear a son, and you will name him Jesus. He will be great, and will be called the Son of the Most High, and the Lord God will give to him the throne of his ancestor David. He will reign over the house of Jacob forever, and of his kingdom there will be no end." Mary said to the angel, "How can this be, since I am a virgin?" The angel said to her, "The Holy Spirit will come upon you, and the power of the Most High will overshadow you; therefore the child to be born will be holy; he will be called Son of God. And now, your relative Elizabeth in her old age has also conceived a son; and this is the sixth month for her who was said to be barren. For nothing will be impossible with God." Then Mary said, "Here am I, the servant of the Lord; let it be with me according to your word." Then the angel departed from her. (Luke 1:26–38)
Consider these questions:
What experiences of prayer do you think Mary might have had prior to this? She was a Jewish girl, probably in her early teens. What do you think her prayer life looked like?
Mary would have heard about angels because of their appearance in Hebrew Scriptures—which she likely would not have read but would have heard read in her Jewish faith community. What do you suppose her ideas were about them?
Do you think Mary expected God (or an angel) to ever deal with her directly? Why or why not?
What do her questions tell you about how she saw this experience?
In what ways do you think Mary's thinking had to adjust during this encounter?
During this Advent season, examine your own thoughts about who you are, how God communicates with you, and what God might ask of you. Consider these questions:
How have I experienced God up until now?
How do I expect God to speak to me, to communicate with me?
What do I expect God to ask of me?
Am I willing for any of these things—the way I experience God, the way God communicates with me, what God asks of me—to change?
Prayer
Lord, open my mind to your presence and the changes you are calling me to make at this stage of my life. May I sit with openness to your Word this Advent. Amen.
---
This retreat is inspired by Vinita's new book Small Simple Ways: An Ignatian Daybook for Healthy Spiritual Living. Purchase your copy at the special retreat price of $10 by using the code 5175 at loyolapress.com.*
*Shipping and handling are extra. U.S. domestic orders only. Not valid with other offers. Offer expires 12/31/2019.