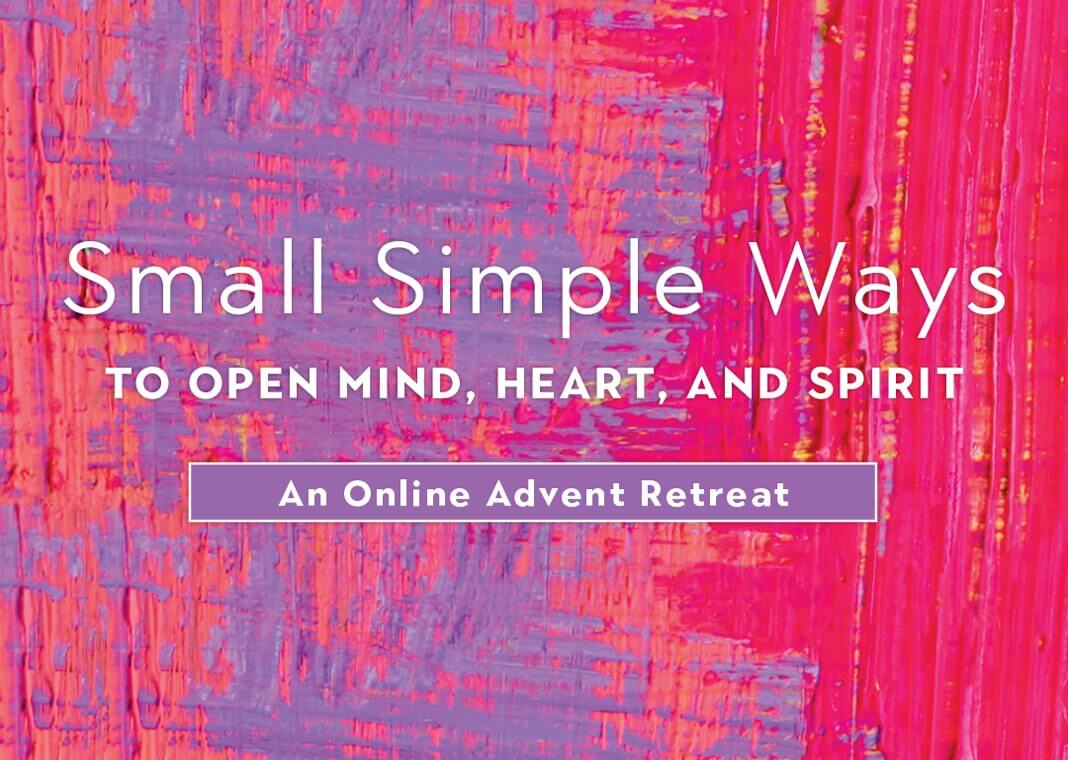 This post is part of the Advent retreat, "Small Simple Ways to Open Mind, Heart, and Spirit." Watch the retreat introduction video here.
During this week of Advent, let's ponder what it means to open our spirit to God. We've talked about opening our mind—our perceptions and expectations. We've also talked about opening our heart—through compassion and acceptance. In referring to "spirit," we expand our openness to the interior depths of the human person. Without becoming too abstract or theological, let's consider a person's spirit to be that core of her existence, the deep place within where God's Spirit communicates to her, that place from which prayer originates and where truth is recognized.
How do we open to God the part of us that is so deeply hidden away—underneath our busy days, distracted minds, fluctuating emotions, and reactive bodies? How does a person get a sense of his own depths, let alone prepare them to open more fully to God?
In that region there were shepherds living in the fields, keeping watch over their flock by night. Then an angel of the Lord stood before them, and the glory of the Lord shone around them, and they were terrified. But the angel said to them, "Do not be afraid; for see—I am bringing you good news of great joy for all the people: to you is born this day in the city of David a Saviour, who is the Messiah, the Lord. This will be a sign for you: you will find a child wrapped in bands of cloth and lying in a manger." And suddenly there was with the angel a multitude of the heavenly host, praising God and saying,

"Glory to God in the highest heaven,
and on earth peace among those whom he favours!"

When the angels had left them and gone into heaven, the shepherds said to one another, "Let us go now to Bethlehem and see this thing that has taken place, which the Lord has made known to us." So they went with haste and found Mary and Joseph, and the child lying in the manger. When they saw this, they made known what had been told them about this child; and all who heard it were amazed at what the shepherds told them. But Mary treasured all these words and pondered them in her heart. The shepherds returned, glorifying and praising God for all they had heard and seen, as it had been told them. (Luke 2:8–20)
I love that the angels revealed this wondrous news to shepherds. They were not learned scribes, probably could not talk theology in any vocabulary we would recognize. Yet they received this unbelievable news and even went looking for this child the angels had announced. Did the shepherds stand around and argue about what they had just seen and heard? Did they try to explain among themselves what they had witnessed? If they did, they did not linger with their arguments and analyses. They chose to believe and go looking for God's gift to them.
An open spirit is ready to receive even what is completely unexpected and beyond understanding. The shepherds could have decided that, given their low status in the world, they should stand back and allow other people to find the child. They probably assumed that everyone in the region had witnessed this heavenly revelation—why, if God would send an angel to lower-class people like them, surely he would send it to everyone!
I have a theory—and it is only a theory but worth considering. I suspect that our spirits close up when we encounter something so beautiful and wonderful that we cannot figure out why God would offer it to us. And, probably the more educated and accomplished we are, the harder it is to receive a gift we have not sought, worked for, earned. The peasant-class shepherds on the hillside that night harbored no illusions about their ability to earn or deserve anything from God. They already knew that everything is gift.
I believe that the essence of an open spirit is not a determination to be obedient to God or to become a holier person; the essence of an open spirit is our willingness to let God love us.
Consider these questions:
How willing am I to accept new information? In what ways might I be resistant to it?
When God speaks to me, do I ever try to deflect the message because I don't feel ready or worthy to hear from God? How have I tended to respond to God's communication to my deepest self? Have I received it, or have I rationalized it away?
Do I tend to hesitate when something wonderful is offered to me? If so, why? If I don't hesitate but receive gifts freely, then what might have prepared me to be this receptive?
Am I ever cynical about joy or good news? Do I ever feel myself "waiting for the other shoe to drop," expecting that this is too good to be true?
Can I let God love me, right now?
Prayer
God who loves my deepest self, who created me to know you, show me any fears or illusions that prevent me from opening my spirit to you. Amen.
---
This retreat is inspired by Vinita's new book Small Simple Ways: An Ignatian Daybook for Healthy Spiritual Living. Purchase your copy at the special retreat price of $10 by using the code 5175 at loyolapress.com.*
*Shipping and handling are extra. U.S. domestic orders only. Not valid with other offers. Offer expires 12/31/2019.