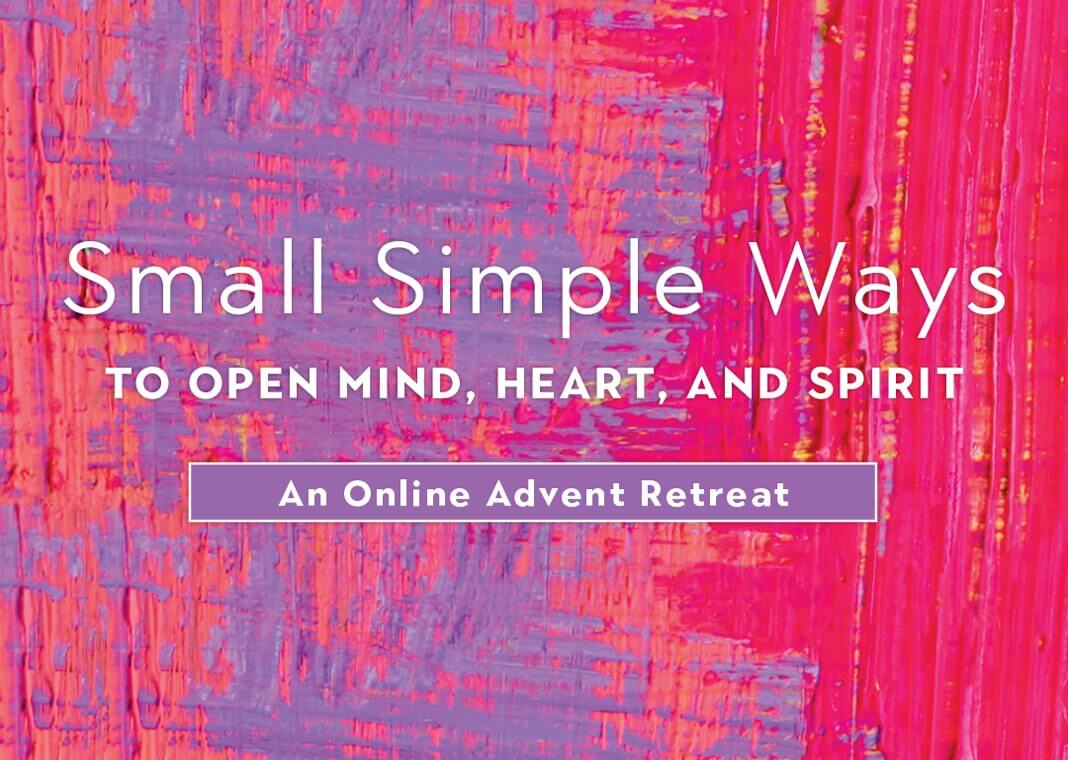 This post is part of the Advent retreat, "Small Simple Ways to Open Mind, Heart, and Spirit." Watch the retreat introduction video here.
During this week of Advent, let's ponder what it means to open the heart to God.
We can't really separate the heart from the mind, or either of these from the spirit. We are whole persons, and these aspects of our personhood are woven together. However, when we speak of opening the heart, we refer to a shift that goes deeper than conscious thought. The "heart" involves our emotions and intuitions, and it houses our deepest desires.
Now the birth of Jesus the Messiah took place in this way. When his mother Mary had been engaged to Joseph, but before they lived together, she was found to be with child from the Holy Spirit. Her husband Joseph, being a righteous man and unwilling to expose her to public disgrace, planned to dismiss her quietly. But just when he had resolved to do this, an angel of the Lord appeared to him in a dream and said, "Joseph, son of David, do not be afraid to take Mary as your wife, for the child conceived in her is from the Holy Spirit. She will bear a son, and you are to name him Jesus, for he will save his people from their sins." All this took place to fulfill what had been spoken by the Lord through the prophet:

"Look, the virgin shall conceive and bear a son,
and they shall name him Emmanuel,"

which means, "God is with us." When Joseph awoke from sleep, he did as the angel of the Lord commanded him; he took her as his wife, but had no marital relations with her until she had borne a son; and he named him Jesus. (Matthew 1:18–25)
It's easy to jump right to the dream and Joseph's encounter with the angel who told him it was all right to take Mary as his wife. But if we read the beginning of this story carefully, we will see that Joseph's heart was open before God sent the dream and the angel. In that time and culture, it was utterly shameful to have an unfaithful wife, even if the marriage had not yet taken place; the betrothal was legally binding. Not only would Joseph have been stunned to find that his wife-to-be was with child, but this would have struck him at the heart: the whole community would see him differently now. This was a massive blow to his personal honor as well as his future plans. Yet Joseph was open-hearted enough to avoid exposing Mary to public disgrace. Of course he thought she'd been with another man. But he was "righteous" and took the compassionate course.
Would a hard- or closed-hearted man have been open to a dream? To an angel's voice? Would a closed-hearted man have been sensitive enough within himself to recognize God's voice and the truth of his situation?
Consider these questions:
Is my heart open to God now—today, in this place? Or am I waiting for a "better" time?
How can I practice having an open heart, day to day, so that when a big event requires it, I will be ready?
If I am open-hearted, how will I treat other people?
If I am open-hearted, how will I see myself?
What characteristics do I see as indicating an open heart?
Prayer
God, you have opened your heart to me. Please help me do the same with you. And show me what an open heart looks like. Help me understand how it feels to have an open heart. Amen.
---
This retreat is inspired by Vinita's new book Small Simple Ways: An Ignatian Daybook for Healthy Spiritual Living. Purchase your copy at the special retreat price of $10 by using the code 5175 at loyolapress.com.*
*Shipping and handling are extra. U.S. domestic orders only. Not valid with other offers. Offer expires 12/31/2019.