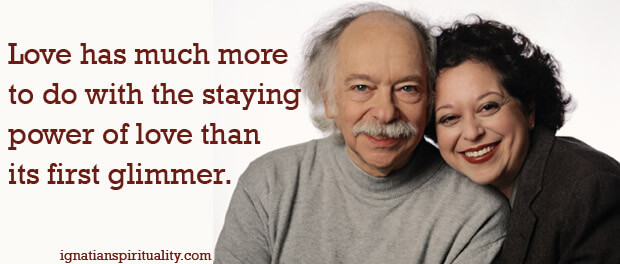 "Fall in love, stay in love, and it will decide everything." —Joseph Whelan, SJ
Fr. Joseph Whelan's words about falling in love as a metaphor for vocation are well-known. (If you don't know the full text of the work, you can find it here.)
At Jesuit colleges like my own, we spend a lot of time on the part about falling in love: find work about which you can be passionate. Choose a major that draws you, one that engages your intellectual curiosity, or your unique gifts and energies. Discover how your faith is not primarily about obligations, but about addressing the deepest desires of the soul.
However, we say a lot less about the "stay in love" part. Allowing oneself to fall in love is important: falling in love with a person, or an academic discipline, or with a community of people working together for a common good. But the most significant part of love is found not in the initial attraction but in the commitment afterwards: the commitment of spouses to one another; the commitment to a community despite the imperfection and humanity of its members; or the commitment to friendships when there are rocky parts on the path, and the initial attraction has somewhat waned. If love is the "effective willing of the good of another," though, as Thomas Aquinas argued, then love has much more to do with the staying power of love than its first glimmer.
Marriages go through many phases and shifts. I remember a counselor who said that periodically there are seismic shifts, places where relationships experience breaks along the lines of plate tectonics, where the ground beneath our feet seems to give way and we don't know where we stand anymore. Then the relationship has to find a way to mend the break and find a new way forward. As someone who has been married for nearly 26 years, I can attest to this! But the reality of what it means to stay in love extends to many parts of our lives. Choosing to fall in love over and over again is good; we want to have new life and fresh energy in our work, relationships, and vocational paths. But a person who continually moves from relationship to relationship, or repeatedly from one line of work to another, all in the name of "falling in love" is more Don Juan than Jesus. Only to fall in love and then not to remain indicates a kind of psychological immaturity. Falling in love is nearly always about myself and my own desires, while staying takes account of the good of others.
Jesus was on the road for his ministry but showed longevity in his relationships. He reconciled with his friend Peter after a tremendous relational break. His relationship with Mary Magdalene shifted but did not end with the Resurrection, when he asked her not to cling to him in the same old ways. Indeed, we can understand part of the movement from the Passion and Crucifixion into the Resurrection precisely in terms of "staying in love," when we see Jesus return both to those who betrayed him in fear and those who faithfully stood at the foot of the Cross.
We, too, can think about what it means for us to choose to stay in love through challenges in our careers, vocations, and relationships. When we choose commitment, we choose maturity, and that decides everything.