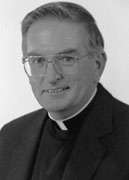 William Barry, SJ, writes for the Ignatian Volunteer Corps:
If we look honestly at the history of the world God is creating, we would have to say that God has not been particularly successful in bringing about peace on earth. If there were a board of directors in our modern sense for the Kingdom of God, God would be out of a job.
So how does God measure success? Read Barry's thoughts in the full reflection.