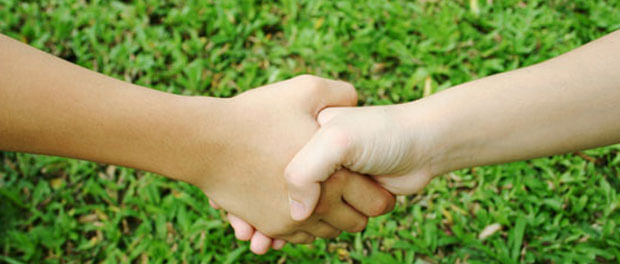 Sometimes we hesitate to forgive because we think it must automatically include reconciliation. These are two separate processes, and one does not always lead to the other.
1. One person can forgive; it takes two to reconcile.
With God's help, I have the power to forgive anything. That doesn't mean that I'm willing to forgive anything or that it will be easy. And sometimes a wrong is so heinous that it can take the rest of my life to forgive completely. But the possibility is there. My capacity to forgive does not depend on anyone else's behavior or permission. The person I forgive can continue to be cruel, thoughtless, and relentlessly set against me. But he or she cannot command my spirit to offer or withhold forgiveness. Forgiveness is a spiritual act, which means that, ultimately, I rely on God's grace to accomplish it. In fact, my own faults and weaknesses will get in the way of my ability to forgive, especially in some situations. But whatever I'm lacking, God can supply. At times my need for God's assistance is acute, but when I choose to forgive, my effort does not rely on any other person.
Reconciliation is a multiple-person process. When I reconcile with another person, both of us must first ask and/or offer forgiveness. But it must go further than that. Both people choose to do whatever it takes to restore the relationship. One person can be completely willing, but if the other person is not willing, reconciliation is not possible. This means that I can forgive someone for damaging our friendship, but perhaps I don't feel safe enough to resume the friendship. That might happen later, but for now I will forgive and leave it at that. Or I might forgive and be ready to reconcile, but the other person no longer desires this relationship. Or the other person can forgive me but not want to reconcile; or the other person forgives me but I don't want to reconcile. It's worth noting here that some damage occurs in relationships that are out of balance to begin with, such as the friendship in which one person is needy and the other one always comes to the rescue. In such cases, reconciliation—if it should happen at all—will require a complete reconstruction and that only after one or both people have dealt with their individual issues. Reconciliation can be long and painful and messy, but it can also be well worth all the turmoil if the relationship is indeed restored. Sometimes restored relationships are stronger than they were before all the trouble.
2. Forgiveness is an interior discipline; reconciliation is an outward process.
Forgiveness is a private and ongoing discipline of mind, heart, and soul. Actually, forgiveness is one aspect of an overall posture toward others and life itself. If I am judgmental and vindictive in general, forgiveness will be an awkward and difficult change of direction for me. If I hope to forgive specific wrongs others commit against me, then I should be practicing this very day to look at others with openness and compassion, to be slow to place blame, to resist seeking revenge. And I can practice forgiveness without anyone else knowing what is happening inside me. I may be terribly hurt at something another person said, and I know that before I confront that person in any way, I need to choose forgiveness. I might silently work on forgiveness—in my prayer, meditation, talks with a counselor or spiritual director—for days or weeks without talking directly to the person whose words hurt me so. In some cases, I might go through that private process, realize that the wrong wasn't as blatant or as intentional as I first thought, and then get over it completely without the other person ever knowing about my struggle.
Reconciliation is not private because it must include at least one other person. Sometimes reconciliation includes others as well, such as pastors, mediators, and counselors. When I'm working on reconciliation, of course I do my own interior work, but I must also cooperate with the larger work that involves others' schedules, personal difficulties, and needs. I may feel a burning desire to have a discussion immediately and try to restore this friendship, but the other person has a lot going on—dealing with her teenager, pressures at work, or health problems—and she simply cannot enter such a heavy conversation yet. My loved one may want to reconcile now and move back home, but I know that until she has received professional help for her substance abuse or mental-health problems, such a move would be a mistake and likely result not in reconciliation but a bigger mess. Reconciliation is as complicated as the people involved, and it can require more time and patience than forgiveness because of all the moving pieces. Another huge factor in reconciliation is the inclusion—or, intrusion—of other friends and family members. Additional people can provide strength, encouragement, and wisdom. They can also provide more opportunities for argument, miscommunication, and flawed strategies.
How do you deal with the gap between forgiveness and reconciliation?
How do you know when forgiveness must be enough for now?
How do you know when it's time to try reconciliation?
---
Pray with this reflection for how we might move forward in forgiveness and reconciliation.