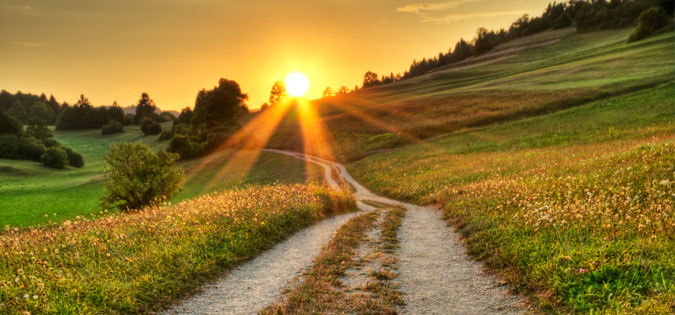 We've talked about walking prayer. We can take walking prayer further and make a pilgrimage. Actually, summer could be an ideal time for pilgrimage if you tend to take vacation during summer months. Many of us use vacation time to journey to hometowns and visit family. A hometown can be the location for profound pilgrimage.
For instance, your parents or aunt may still live in the town where you spent your childhood years. Childhood holds all kinds of memories, some we celebrate and some that require healing. While you're visiting that town for a few days, why not take an hour or two to visit places there that were meaningful to you? You might visit a church or school, or a playing field where you spent a lot of time. Or a mall or movie theater where you and your friends lived out your own dramas. Your pilgrimage might consist of locations where major events happened to you—where you graduated from high school, survived a bad car wreck, met the person who became your first love, or buried the grandpa who always made you feel important.
Can you go to each significant location and offer a simple prayer there? Some people take objects to leave along the pilgrimage, such as flowers or small stones. You can make such a journey alone, or maybe you'd like to bring along a friend, sibling, or spouse to share these moments.
If you're a road trip kind of person, why not create a trip that celebrates your life history? Maybe you visit a town you used to live in but also you visit the college you attended, the first company you worked for, the campground you frequented during high school, and the national forest that woke you up to nature's beauty.
What kind of pilgrimage appeals to you?
Can you create some sort of pilgrimage as part of your summer prayer?
---
This post is part of a series: Praying Through the Summer.
Join in 31 Days with St. Ignatius with today's entry, Ignatius Found God Everywhere by James Martin, SJ. Follow along everyday this month here and on social media #31DayswithIgnatius.