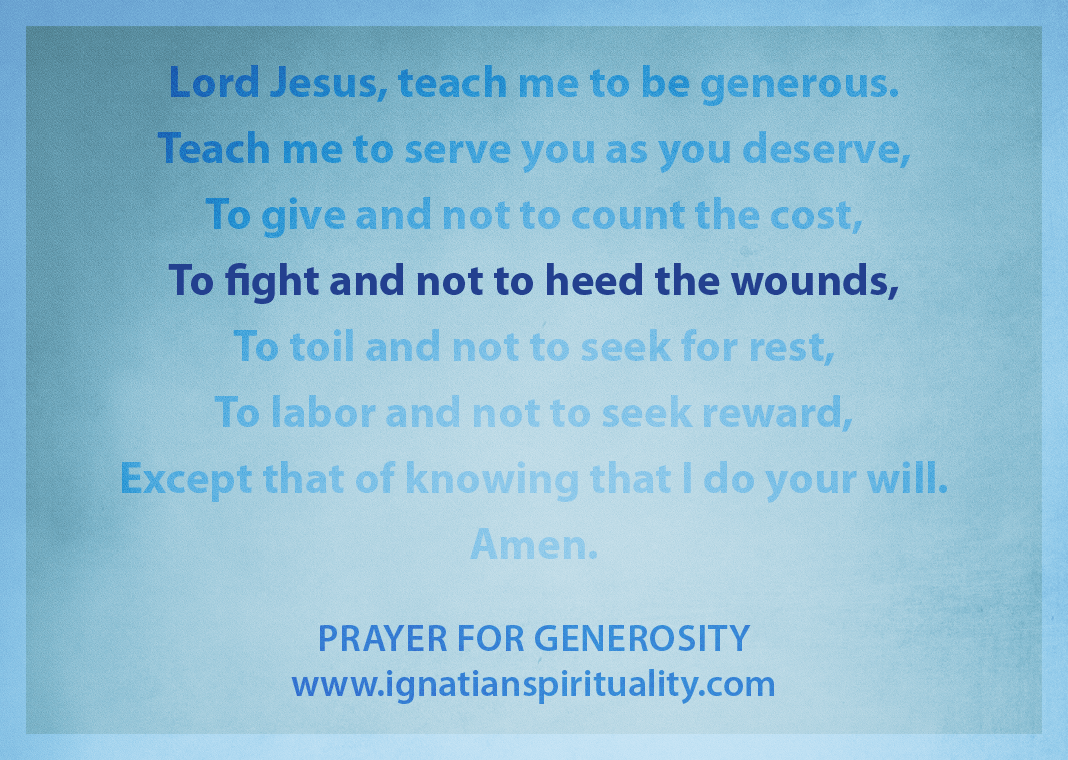 We've invited our dotMagis bloggers to reflect on the individual lines of the Prayer for Generosity, attributed to St. Ignatius.
"To fight and not to heed the wounds."
Who is able to do this?
Reflecting on this sentiment, the image of a knight comes to mind. Only one fortified by an utterly consuming commitment and devotion to the one he serves could be so driven as to be able to ignore his own wounds.
I envision the young, battle-scarred Ignatius limping toward the altar of Montserrat. With a grand flourish and deep bow, he places his sword on the altar before the Virgin and Christ Child. Vowing to put on "the armor of Christ," he keeps vigil before the altar through the night. With the breaking of the dawn, he exits the chapel, dons a long sackcloth, and hands his velvet robes to a stunned beggar. With this gesture, he disavows his noble heritage and chivalric dreams.
Ignatius's call to generosity still rings out to those courageous enough "to fight and not to heed the wounds." Through his own example of generosity, he challenges us to ask:
Where do I hear the whisper of the Spirit nudging me toward greater generosity in my own life despite the limits of time?
Perhaps an issue of social justice bothers me. Could it be that I am being called to stand in solidarity with those on the margins and help them to be seen and heard?
Am I being nudged to give the gift of presence to a family member or friend in need?
Is there something that I sense God calling me to, something that pulls so strongly at my heartstrings that I would not even notice if I were wounded while fighting for it?
Sit with these questions. Ask the Spirit to enlighten you and show you in what ways you are being called to greater generosity. You might even ask St. Ignatius to accompany you as you enter your own quest.