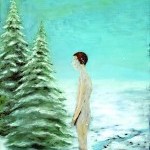 Though I have not yet seen the exhibit "The Wanderer," by Enrique Martínez Celaya, (at the Museum of Biblical Art in New York) I am fascinated by its description:
The exhibition explores Martínez Celaya's immersion in a Western literary tradition rich in themes and imagery that project a deeply private existential odyssey. The Wanderer presents a series of desolate landscapes in which God may or may not have abandoned mankind. Solitary figures, usually partly nude and always adolescent, are set against a harsh terrain.
Parents and teachers (I am both) have a startling window into the interior worlds of young people.  Sometimes the fragility of these interior worlds frighten me, as if I am holding in my hands delicate crystal or china.  And I am frequently mindful of the landscapes these young people must traverse: lands where there is racism, commodification of bodies, misogyny (and misandry), an eros for financial gain, comptetition, mind-flattening entertainment, and so on.
The Jesuit spiritual writer Joseph Tetlow has described Ignatius' vision of the world as "God's project," a better term than the somewhat vague idea of "God's will."  God's project is the unfolding of the kingdom, and our participation in bringing about that project.  Discernment is the process of reading the blueprints and responding to the circumstances we see around us.  One element of unfolding God's project, I think, is building structures in our world (schools, sports, clubs and organizations) that afford young people shelter from desolate landscapes.  But it is also about learning to navigate the paths, crevices, trails, and byways to help shepherd the young through these landscapes.  How will they find their way without able guides?  And how will they survive if those who could help them are too busy building their own shelters?