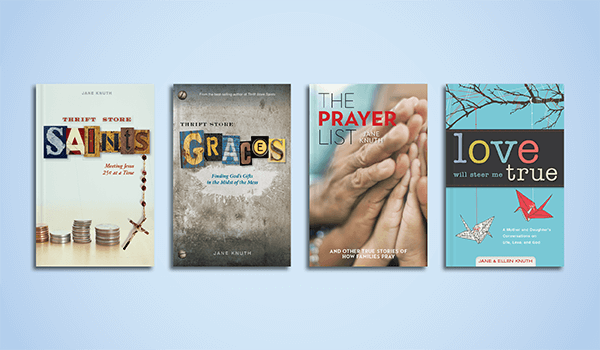 Fifteen years ago, Jane Knuth wandered into the St. Vincent de Paul thrift store in Kalamazoo, Michigan, looking to buy a rosary for her daughter's First Communion. She became a volunteer. She liked the people who worked there. Even more, she grew to know and love the poor people who came to the store for clothing and other necessities.
Knuth has written an extraordinary book about her experiences called Thrift Store Saints: Meeting Jesus 25¢ at a Time. She tells stories about the people of St. Vincent de Paul, volunteers and customers, writing with an elegant simplicity and a generosity of spirit that delighted me. Few books have touched me more deeply.
You can sample the book online here.
Here's a story from the book about how Knuth learned about the dignity of the poor. A man comes in asking for some clothes for his cousin, who has just been released from prison. He's nervous, obviously unused to asking for help:
On the clothes racks we find sweatpants, shirts, socks, and a winter coat. As I bag the clothes, he asks, "Can I rake your leaves? I'd like to do something to help you folks out. I'll make sure my cousin comes in to thank you when he gets a day off, but let me do something today."

I tell him it isn't necessary, but he asks again, and then another time after I hand him the bag. I refuse again just as my coworker Jim walks by us.

Jim, overhearing the offer, is more perceptive than I. "I'll get you a rake," he tells him. "Thanks very much, it would be a great help."

The man rakes every leaf into a tidy pile. When he comes back inside, he is no longer anxious or uneasy. He shakes our hands, gathers up his small bag of clothing and walks out.

This man raking the leaves at the St. Vinnie's thrift shop is confirmation of a niggling suspicion I have about the place. Gradually, over the first few months that I work there, it starts to become uneasily clear to me that we are not trying to change the world. We aren't trying to change poor people either.

The only thing it seems we are trying to change is ourselves.