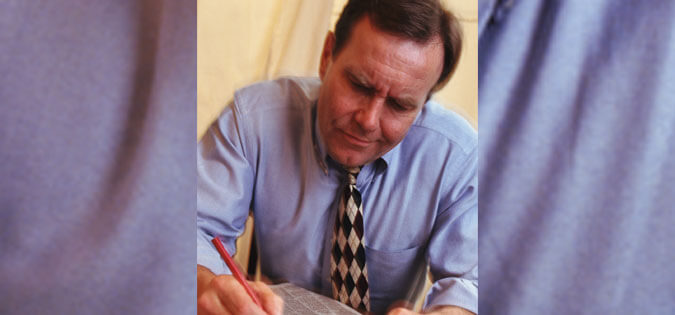 So, when do you pray? Think about that for a few moments.
Most of us pray when we feel in desperate need of help or rescue. At the apex of anxiety over a teenager who is two hours late getting home or the car that's acting up on the expressway in the middle of a downpour, we send our most blunt and honest prayers.
At the other end of the experience spectrum, we utter prayers of wonder and gratitude when the baby is born, the test results come back negative, or we find ourselves looking over a glistening lake or lush valley. Our awe needs a target!
But I believe that most of us do not send to God the minor daily eruptions of heart, soul, mind, and body. We think we should be able to manage that stuff on our own. Why should I tell God about my little anxieties, my aching joints, or frustration over a project that won't behave?
What we forget is that most of us are conquered not by the major events and momentous problems but by the needling, constant, daily challenges. When someone in the family gets horribly ill, I shift into high coping mode; we all do. When my marriage feels threatened by major life changes, I know enough to seek counseling, because this is a big deal, and I know I need reinforcements.
But do I pray when I'm irritated at a loved one over something that's not such a big deal? Actually, I avoid prayer when I'm angry at my husband, because I feel that I'm misbehaving and don't deserve God's attention. Or if I'm bored at work, more tired than usual, cannot organize my thoughts around multiple matters, or spend an inordinate amount of time in bathrooms because something has wrecked my system—shouldn't I be able to handle it? Isn't it terribly self-absorbed of me to send heavenward my responses to daily life?
I suppose I would be self-absorbed if I prayed to God about every small thing with the expectation that God would fix every small thing. But prayer is not so much about fixing situations as it is about developing my relationship with the Divine. Prayer works on my habits of emotion and response. Prayer takes me to the place of trusting God with my whole life, knowing that God never promised to rescue me from trial and inconvenience. Prayer builds my interior world in such a way that, regardless of today's details, I will continue in the direction of Christlikeness.
So, when do you pray? I hope you pray all the time, about everything. I'm trying to do that. If we understand prayer as relationship, as holy conversation, then we will naturally talk with God through whatever is happening.
A question to ponder: When am I most likely to avoid prayer? Can I talk with God about this?