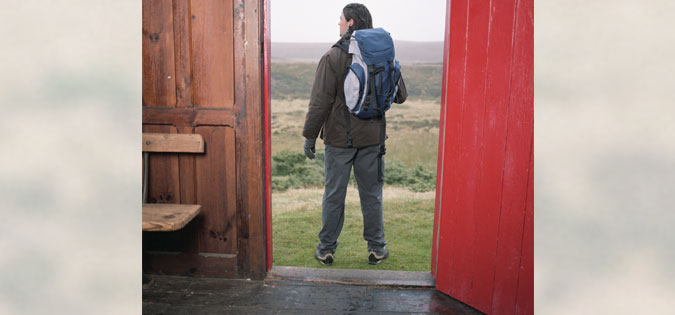 This post is based on Week Five of An Ignatian Prayer Adventure.
The Gospel stories of the call of the first disciples are often cited as models of the call to a religious vocation: an explicit call ("Come, follow me," Matthew 4:19) and an immediate response that takes the form of leaving everything behind ("at once they left their nets;" "immediately they left the boat and their father," 4:20, 4:22). In Luke's version, they "left everything and followed him" (Luke 5:11).
Those of us who have not been called to a lifetime commitment in the religious life are nevertheless called to follow Jesus. The call may come in different forms at different times in our lives, and what we are called to leave behind may vary greatly.
Sarah, the wife of the Patriarch Abraham, was called to be a mother at the age of 90, and her first reaction was to laugh (Genesis 18:12). I thought of Sarah when, in my mid-70s, I was discerning a call to become a spiritual director, and my first reaction was to laugh. "Who, me?" Yes, said the Lord, and after three years of prayer and study, that is what I'm doing at age 80.
Major life changes often lead people to question what they are called to do. Retirement, the last child leaving home, the death of a spouse, or physical disability can all give rise to painful questions about who we are and what God wants of us now. The key word is now. Sometimes, in later life, we are called to things we might never have imagined. Some retired people experience grace in serving others; others find the time and space to experience prayer in a new and deeper way. It's harder to hear the call in painful losses—of loved ones, of the ability to do various things, even of independence—but it's there. Every major turning point in our lives is a call to renew our commitment to a God-centered life and to find God in all things. Part of our answer to the call—at any age, in any form—is a commitment to share in the sufferings of Jesus.
What do we have to leave behind in order to answer the call? At a recent meeting of a prayer group composed of retired people, several members expressed discomfort with the phrase "left everything." Some pointed out that leaving everything when one has family responsibilities is irresponsible. What, then, is the nature of the call? Perhaps we are being called to leave behind not our homes or families, but whatever it is that holds us back from a fuller and deeper relationship with God. It may be an attachment to something material, or it may be a longstanding, deep-seated grievance that we need to let go. If we respond to the call to let go, to free ourselves to hear God's call, we can realize, with the amazement of Sarah and Abraham, that God is full of surprises.
Who, me? Yes, you!