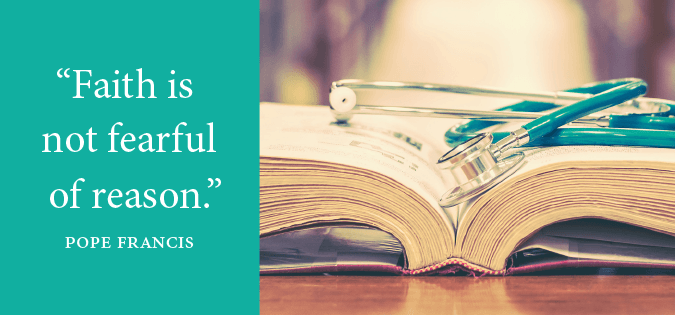 "Faith is not fearful of reason." —Pope Francis, in On Faith
Every morning, I walk my son through the hallway of my school on his way to kindergarten next door. And often somewhere along the journey, he discovers a new machine that fascinates him. One morning, it was the printer. "Mom, what's this white machine?" he asked. "A printer," I replied. He went on to ask me about every piece of the printer, from the paper tray to the spot where the paper leaves the machine after printing. Finally, satisfied he understood the machine in all its glory, he had me print something. The paper came out with his name on it, and he stared at the sheet with excitement and wonder. "Mommy, mommy…how'd it know my name?" We have since repeated this questioning process with several other machines, from the ATM to the elevator. Each time he comes across something new, he asks a series of questions, and then suddenly, he is satisfied just to stare in wonder at the machine at work.
The questions from my son are sometimes easy, like, "How does a printer work?" But sometimes they are more difficult, like, "Mommy, why don't you have super ears like me?" (That's our nickname for the two bright-blue hearing aids that adorn his ears.) Questions like these are ones I have asked myself too. And in response to this particular question, I fought hard for answers. I fought hard for genetic testing. Though many who had gone through a similar experience advised me that answers to these questions would not change anything, I felt I needed to know. And I still believed it would somehow make a difference. I was not afraid to ask the questions. Instead, I was more afraid of not asking. But when I finally got the answer back, it was less concrete than I had hoped. Yes, I know now my son has a genetic loss, a double-recessive loss that both my husband and I gave him. But that is pretty much it. There are so few people with his particular gene that have been tested that there is not much information to be had. Perhaps, over time, there will be more information. More people will have questions; more will seek answers. Scientists will study them, and reports will be made. And all of that will be helpful to the parents and children. But none of it will change my love for my son and my belief that he is the most wonderful, inquisitive, stubborn, and incredibly loving child I have ever known—a child who also has a unique perspective on life through the lens of hearing loss.
Perhaps this is true also with faith. Questions are essential. They guide our understanding, and wrestling with them is part of what makes us human. But there is a moment in time in every exploration when reason has done all the work it can, and we must lean into faith. We must lean into love.
Walking down the hall between the ATM and the elevator discoveries the other morning, my son paused and stared at his reflection in the window. He looked at me and smiled. "It's me!" he said with glee. In the end, I am both glad I asked the questions and completely OK that they did not answer everything. After all, I am truly blessed to love this little boy just as he is. Looking at him stare at his reflection, I caught a glimpse of Christ and shared together with him in the wonder of the beloved human before me: "Yes, son! It's you!"