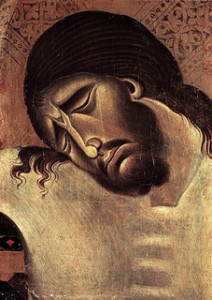 For Good Friday, pray this colloquy from The Spiritual Exercises 53. This is a contemporary paraphrase by David L. Fleming, SJ.I put myself before Jesus Christ our Lord, present before me on the cross.
I talk to him about how he creates because he loves and then he is born one like us out of love, so emptying himself as to pass from eternal life to death here in time, even death on a cross. By his response of love for God his Father, he dies for my sins.
I look to myself and ask—just letting the questions penetrate my being:
In the past, what response have I made to Christ?
How do I respond to Christ now?
What response should I make to Christ? As I look upon Jesus as he hangs upon the cross, I ponder whatever God may bring to my attention.
Image by carulmare under Creative Commons license.