If you are following along with our Advent retreat, this is the place for brief reflections to jump-start your week. Please share your retreat experience with others here throughout the week in the comments.
The Second Week of Advent: Prepare Yourself for the Lord's Coming.Petition: Ask for the grace to prepare the way for the Lord in one's own heart, in the family, in the parish, and in the human community.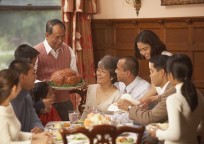 Soon we will gather with loved ones for the holiday. We look forward to opening the door to guests, and also being welcomed into others' homes. We will probably spend time with people we don't see very often, and so these times are precious to us. Could we extend this love and anticipation to the ordinary meetings and greetings in the year to come? Do we understand that fellowship is always a miracle, a grace from God?
—Excerpted from 2010: A Book of Grace-Filled Days by Alice Camille