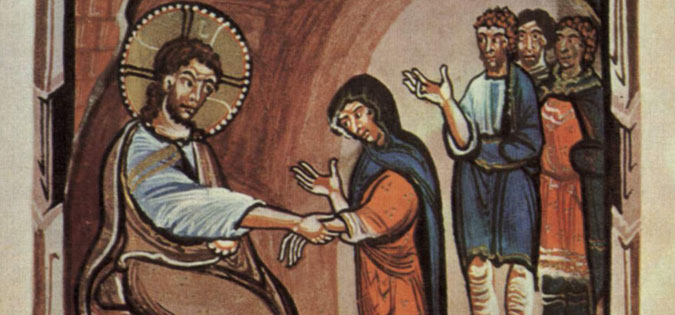 This post is based on Week Six of An Ignatian Prayer Adventure.
It's the Sabbath. Jesus must surely have been looking forward to a peaceful Sabbath meal at Simon Peter's house, after teaching in the synagogue, curing a demoniac, and enduring the commotion that ensued (Mark 1:21–28).
Instead, they told him about Simon's mother-in-law, who "lay sick with a fever," and he "came and took her by the hand and lifted her up. Then the fever left her, and she began to serve them" (1:29–30).
Who was this nameless woman, who is given only three sentences? She was certainly "old" by first-century standards, since she had a married daughter. Life expectancy was short, and the all-encompassing term "fever" often meant a life-threatening illness. Nevertheless, in the multi-generational households of the time, she would still have had major responsibilities, including hospitality to guests.
A few months ago, I had a fever caused by the flu. I could scarcely get out of bed, much less get up and dress and greet visitors, yet this is what Simon's mother-in-law was expected to do. And Jesus wasn't alone; he brought James and John and who knows how many others with him. How could she trust anyone else to be the hostess, even her daughters, her daughters-in-law, or any of the other women of the household? Yet she had no strength. How frustrated she must have felt! (I am with her for a long time in her weakness, pain, anxiety, and frustration.)
Then "they" (Who are they?) "told him about her." How did she feel when Jesus—perhaps accompanied by "them"—came into her private space? Surprised? Embarrassed? Hopeful? "They told him about her." What had anybody told her about him?
Then, suddenly, he cured her. I try to imagine the feeling when the illness left her at once. (It took me two weeks to get over my "fever.") But her joy and gratitude were so full that she served them. Jesus had that effect on people.
As we pray "to know Jesus more intimately" this week, Simon's mother-in-law may help us to understand not only what it is like to meet him, but how to respond. How am I called to serve Jesus, right now, this Lent, in this stage of my life?