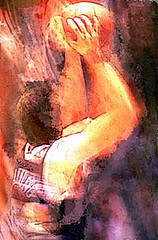 It's been a great season for Jesuit basketball.  No fewer than eight Jesuit schools will be represented in the NCAA men's tournament, which starts this week.  Four of the five teams that made the tournament last year are back: Gonzaga, Georgetown, Xavier, and Marquette.  This year Creighton, Loyola (Maryland), St. Louis, and Detroit join the dance.
The highest-rated teams are Georgetown and Marquette, number 3 seeds in their divisions.
Image by markartsf under Creative Commons license.