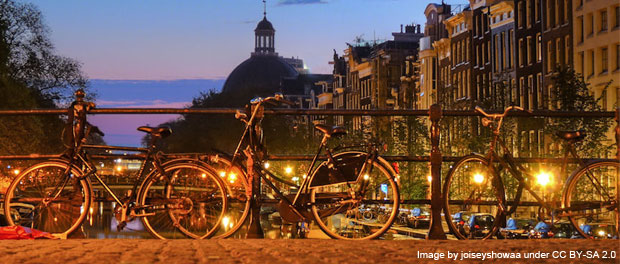 Jim Corkery, SJ, is a member of the Irish Jesuit Province and teaches theology at the Pontifical Gregorian University in Rome. He recently joined a group of Jesuits sent out in small groups to participate in Jesuit life in different parts of Northwest Europe. Corkery reflects on his experience Finding God in Amsterdam:
The mission of a Jesuit, expressed in broadest terms, is to bring God to the world and the world to God. This word "bring" is not quite right, actually, because a Jesuit's presupposition, based on his faith in the Incarnation, is that God is already in the world—present in its depths, healing and loving it, and reconciling it to himself (2 Corinthians 5:19). So our mission in Amsterdam was less to "bring" God to the city than to "find" God already present in it, to detect his activity and to dispose ourselves, somehow, for being opened up and enlivened by it. How were we to do this? First, we would pray alone for about an hour each day, using (but not confining ourselves to) themes and biblical texts that had been prepared for us with a gentle focus on seeking out God's desires for our provinces together in the years ahead; and then we would take time to share with one another what had occurred as we prayed. Second, we would try to participate a little in the work of the church of Saint Francis Xavier that was attached to our house, sharing at times in its liturgies (our Dutch-speaker especially) and attempting to show visitors around it, using the various languages we could speak. Third, we would visit, pray and converse with some communities, known to our Dutch hosts, which would enable us to tap into existing ways in which God was evidently present and active in Amsterdam. Fourth—and this depended on the particular ingenuity, gifts and inclinations of each person—the whole city lay before us, it was there to be visited, explored and enjoyed, and there was no reason that, going out into it, we could not find the presence of God in unexpected ways. So we attempted this also, seeking to be open to the possibility of being encountered by the "God of surprises."
Corkery tells a bit about how his group encountered the God of surprises in the full article at Thinking Faith.
Image by joiseyshowaa under CC BY-SA 2.0.