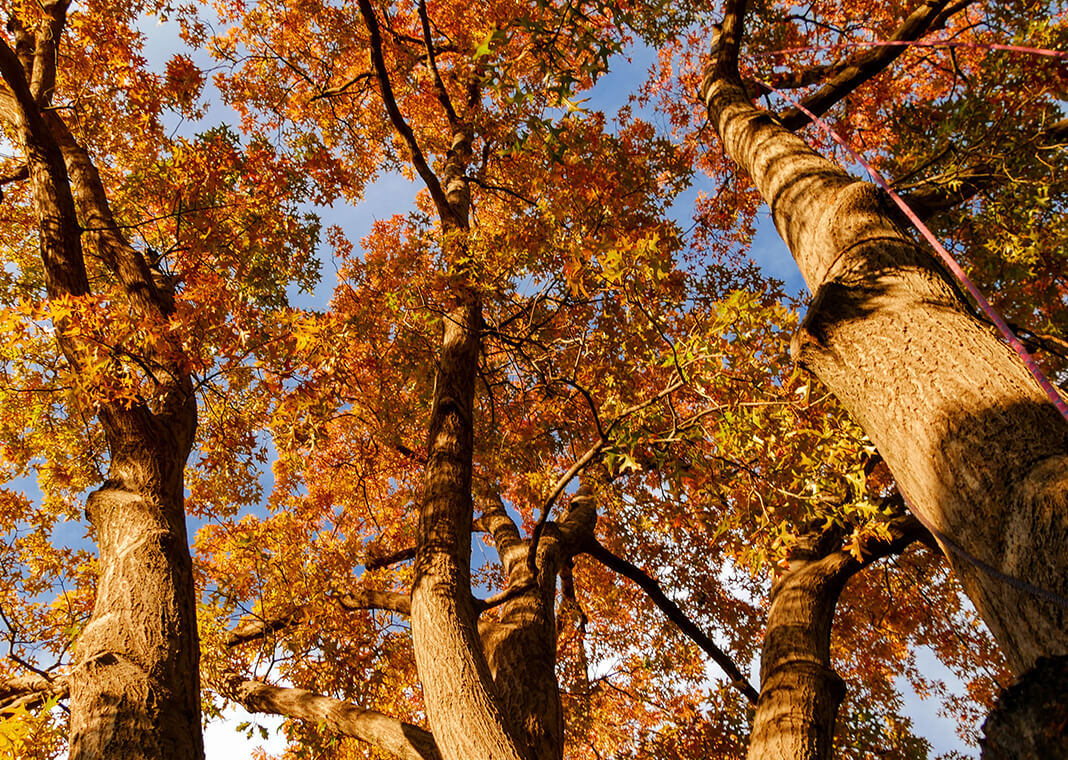 This morning, my husband, John, and I took a lap around the paved loop that tops a city park not far from where we live. From its high vantage point, there's a long view of the surrounding landscape: stands of trees on every side; the winding of the Charles River; reeds home to red-winged blackbirds; train tracks and the occasional humming of a commuter rail train; and a water tower off in the distance. We often walk here or at a local arboretum. Since the start of the pandemic, our excursions have taken on even greater value; a daily walk reminds me that I am connected to a larger world beyond myself. Contemplating the beauty of falling leaves, wistfully observing a starling swooping in the wind, observing the marks a beaver has left behind on a tree stump, or taking in the scents of Concord grapes inexplicably dangling off an oak tree's extended branches have been small but significant gifts when the world feels too much. Contemplation of nature is a core part of how I can know that there is something much bigger than my immediate concerns. I can be impatient in wanting difficulties to end or for a much-awaited hope to be brought to fruition, and looking out from the top of the hill gives me the longer view, not only in space but also in time. Nature reminds me that God's timeline is vast.
The seasonal changes intrigue me and connect closely to my prayer life when I pray in silence, mostly indoors these days. It feels as though just yesterday the fields were lush with flowers of all different colors and textures, and now we are already into late fall, and some of the trees have lost their leaves. We have had a cold snap and even substantial snowfall. My prayer life has its seasons too—times when the consolation and the sense of God's presence seem like flower after flower after flower, blossoming. There are moments when God surprises me with the "aroma" of something I did not expect—maybe a memory that returns to me from long ago and wraps itself around me like a warm blanket. The other day I remembered my grandfather taking me out to look at the bees that he raised on his farm, and while I only traveled back in time for a brief moment, it was as though he—and God too—were at my side in the memory and its traces.
But then come the periods of dryness and desert, too, and the cold season when the ground of prayer grows so hard and brittle that I can hardly remember the flowery moments existed at all. Sometimes I have joked with my husband that New England is such a beautiful place to live until March, when what feels like five solid months of winter makes me wonder why I ever liked it, and I have to confess sometimes prayer can feel like that too. Some days I look out at the world and want to shake my fist at it, or maybe even at God. Maybe God has a wry smile, though, in seeing the longer view.
I sometimes suspect that this is God's biggest secret: to take the trash in our lives and make it into something beautiful.
The park near our house is constructed atop an old landfill. In a brilliant move almost two decades ago, our city's former mayor decided that a big hill of trash could be covered, treated, and then topped with grass, paths, and plenty of native plants. I sometimes suspect that this is God's biggest secret: to take the trash in our lives and make it into something beautiful. The very first people who worked at the old landfill could not possibly have imagined that the junk they piled into a bigger and bigger heap would someday be a home to dozens of varieties of birds, hundreds of native plants, grapes, a blue heron, and, I am told, a reclusive bobcat. This gives me hope when I look at struggles in our world. I like to imagine God saying, "Don't leave it all to me, because you're no longer children. But build something, and I can make it work."
St. Ignatius, I realize, did exactly that throughout his life. When faced with a mess, he looked at the real options available to him, did something, and discerned what to do with it all next. He wanted to be a great soldier, but he was injured by a cannonball, so he spent his time recuperating reading books—the only books available in the house—and those books inspired him to want to be a saint. He traveled to Jerusalem, a destination meant to be the pinnacle of his pilgrimage, but he was sent back home for safety reasons. Faced with the disappointment of everything for which he had been working, Ignatius threw his efforts into study instead. I would not be surprised if Ignatius sometimes shook his fist during those first studies of Latin, which he had to learn at the age of 33 side by side much younger schoolboys! Yet today we have many Jesuit universities because of Ignatius's commitment to learning as preparation for ministry. What if Ignatius had thought that a badly injured leg was simply the end of all his hopes and dreams? What if his being put back on the ship from Jerusalem to Barcelona meant nothing but failure? So much is different because of his hope and persistence.
I try to remember I can look at the mountain of trash before us and think: Maybe someday this will be an amazing park. Imagine what God can do with a little labor and a lot of perseverance. All the little actions slowly add up to something bigger. And maybe someday, God will say, "Come here. You are going to love the view from the top."
Photo by Malachi Brooks on Unsplash.