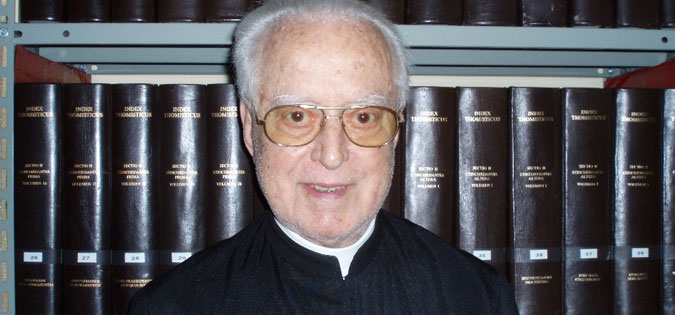 Aleteia recently profiled "The Jesuit Who Invented Hypertext," Father Roberto Busa. While Ted Nelson and other names are more commonly listed as the inventors of the technology that made hypertext—the linking of information from different pages—possible, Busa envisioned how machines could help in humanities studies.
Busa was a scholar who envisioned that technology could be used to help his project of creating a searchable concordance of the works of St. Thomas Aquinas. He met with IBM founder Thomas J. Watson in 1949 and convinced him to take on the project. As reported in America magazine at the time of Busa's death in 2011:
Father Busa recalled the meeting as follows:

I knew, the day I was to meet Thomas J. Watson, Sr., that he had on his desk a report which said IBM machines could never do what I wanted. I had seen in the waiting room a small poster imprinted with the words: "The difficult we do right away; the impossible takes a little longer." (IBM always loved slogans.) I took it in with me into Mr. Watson's office. Sitting down in front of him and sensing the tremendous power of his mind, I was inspired to say: "It is not right to say 'no' before you have tried." I took out the poster and showed him his own slogan. He agreed that IBM would cooperate … "provided that you do not change IBM into International Busa Machines."
The Index Thomisticus was published about 30 years later, with CD-ROM and Web-based versions following in 1989 and 2005, respectively.