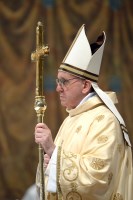 The latest of the now-weekly bombshells to emerge from the Holy See is an interview that Pope Francis gave to the influential atheist founder of La Repubblica, the most widely read Italian daily (poorly translated English version here). He joked with Eugenio Scalfari that "my friends think you want to convert me," to which Scalfari responded that this was a joke, since he'd heard the same about Pope Francis! The interview got off to an interesting start. When Scalfari asked about proselytizing, the Pope responded
Il proselitismo è una solenne sciocchezza, non ha senso.
Which rendered in English is "proselytizing is solemn silliness, and makes no sense."
Can a pope say that? Does it reflect a lack of confidence in the gospel?
On the contrary, it represents the strongest possible theology. Consider Ignatius's words to those who would give his Spiritual Exercises to another: it is better "to allow the Creator to deal immediately with the creature and the creature with its Creator and Lord" (15).
The Jesuits have a long history of engaging with those who are not Christian, attracting by example even when language is an imperfect form of communication. My favorite example is Matteo Ricci, but there are many others. Pope Francis is using Ricci's basic model: engage in friendship, pursue truth together, and allow the Holy Spirit to use you.