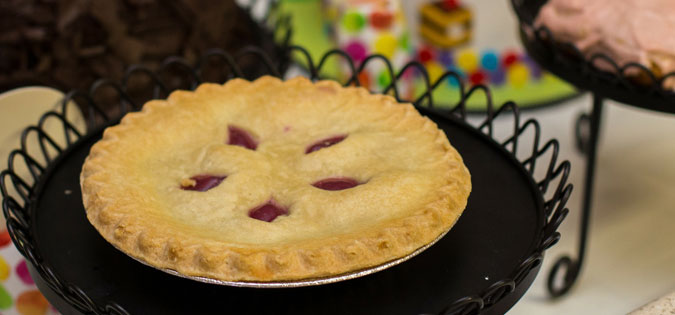 Waiting for a friend at a local coffee shop, I used my smartphone to read a portion of the first letter of John. God took the initiative to sit with me in that moment. My heart was deeply at peace. I was aware of a presence beyond myself. I was warmed by God loving me. I breathed deeply, looked out the window at freshly mown grass and marveled. I was glad my friend was late.
A table tent of incredible desserts caught my eye. Remembering that this restaurant gives free pie to customers who register online, and knowing I would meet friends here for the next eight weeks for a women's faith-sharing group, I decided to register right then and there, using the same smartphone.
After several minutes of completing boxes and getting irritated by the slow website, I was assigned an account number. It ended in 666.
You may laugh as you hear that I thought of the book of Revelation and the identifier of the evil one. But I recognized gently that I'd been distracted from a beautiful moment with God by the lure of a free piece of pie.
I put the phone down as if it were hot. I desired to return to the moment with God, but I heard myself thinking, "You could get that piece of pie today."
I have a disordered attachment to sweets. I know where every treat is in my house, from freezer to shelf. None of them are safe; their hours are numbered.
At the restaurant, I struggled to stay with the decision I had made the night before. I had planned to resist the sugar siren who tempts me to gluttonous behavior. I knew that when I'd given in to temptation in the past, promising myself I'd eat just one cookie, I would reopen the bag and gobble up several more.
It was not easy that day to skip ordering the pie, especially when I paid my bill, and the receipt reminded me that a free piece of pie was available and waiting.
Ignatius, how can you ask me to pray for release from this sweetness? How can you recommend that I ask for the grace to act against this temptation, and give the pie piece away? That restaurant makes this amazing peanut butter chocolate mousse pie.
I noticed the language surrounding my temptation as I reviewed my thoughts. And I grabbed my phone again. What was that line that drew me so close to God earlier?
"You belong to God…the one who is in you is greater than the one who is in the world." (1 John 4:4)
No pie for me today. And I pray for the grace to want the grace that will detach me from pie and other sweets forever, that I may better embrace the sweetness of Christ.