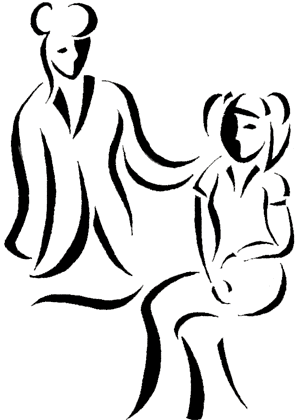 In the US on Sunday, we will celebrate Mother's Day. I have been thinking of my mother a lot lately, maybe because this is only my second Mother's Day without her.  Her long battle with Alzheimer's had a terrible beauty to it, her fight for reality and her letting go and trusting.  Sometimes I wish I remembered less about the Alzheimer's part of her life but it is still so vivid.
There were parts that were a gift.  Early on in the disease, I would fly out to visit her and I could see a graciousness about her as she introduced me to the people at her dinner table. "Have you met my daughter?" she would ask proudly, and would reintroduce me five or six more times during the meal.
Another time, farther into her journey, she might slip her hand into my sister's arm as she would have a schoolmate's and say, "Would you like to come to my house for dinner?  I'll call my parents and ask."  Instead of feeling sad, it seemed like a privileged glimpse into her life as a young girl and the woman she would become: generous, hospitable and, always, following the rules.
There was something profound about going to visit her because she was so delighted that I had come to see her and her happiness was very clear. "Oh, Maureen, how wonderful that you are here!" she would say.  If I left the room for a minute and returned, she would look up, break into a happy smile and say, "Oh, Maureen.  I'm so glad you came to visit!"  I know it was her failing mind, but each time I reappeared in her room, she beamed with joy.
It makes me stop and ponder God's love for each one of us, a gift unearned and a grace that is showered on each of us constantly.  I often live my life pretending I am in control and unwilling to acknowledge my need for help.  But when I slow down long enough to ponder the mystery of that kind of endless love, I can feel God's joy and the delighted welcoming smile just because I have walked into the room.