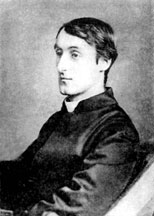 This year marks the 125th anniversary of the death of Gerard Manley Hopkins, SJ. In celebration of the Jesuit poet, Boston College is hosting an exhibition of Hopkins-related memorabilia. The exhibit also includes works about Hopkins.
Paul Mariani, professor of English and Hopkins biographer, said:
""¦it is my experience that his words can best be understood in terms of the Spiritual Exercises of St. Ignatius Loyola, which so deeply shaped him as a priest and as a poet. By this I mean his sense of composition of place and the radiance of the quotidian, manifesting itself in his sacramental reading of a Spirit-saturated world and of his own increasingly complex, kenotic, and celebratory passage through that world: his and ours."
Learn more about the Hopkins anniversary exhibit here.