At our parish on Mother's Day, we have a tradition of honoring all women, whether they biologically have children or not. I am always deeply moved by this tradition, because it allows us to honor women who "mother" even if they do not have children of their own.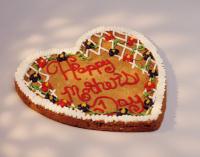 As all women stand in our parish, I can barely hold back the tears as I survey the room and the beautiful array of women who stand with pride. This tradition allows us to honor the religious sisters of our parish, who nurture people by tending to their needs and faith lives. It allows us to honor the women who were never able to have children or who chose not to have children, yet still have profound impacts on the lives of others. They, too, are mothers in my eyes!
When I stand up, I most certainly stand with a full heart of love for having the opportunity to love my two children. As I stand, though, I cannot help but think of all the other women in my life that make me the woman I am today: my own mom, my grandmothers, my sisters-in-law, my aunts, my cousins, my friends, colleagues, my mom's friends who are like second moms, women at our parish, some very dear religious sisters, and on and on. These women create a circle of support that provides strength and courage in my own mothering.
St. Ignatius says, "Love ought to show itself in deeds more than in words, and love consists in sharing what one has and who one is with those one loves." The act of mothering allows us to do this every day. This Mother's Day, I invite us to be thankful for all the women in our lives who have shown us the meaning of St. Ignatius's words.