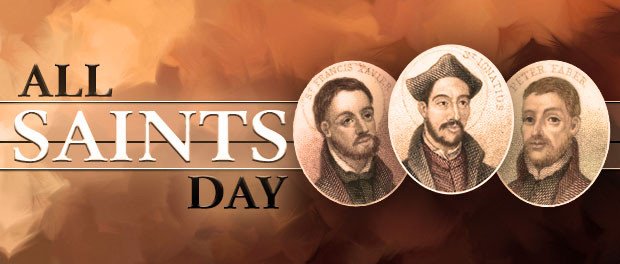 There are dozens of Jesuit saints and many more named blessed, not to mention the many unofficial saints—men and women—who have lived Ignatian values in inspirational ways. We remember these Ignatian holy people in a special way on All Saints Day, All Souls Day, and the feast of All Saints and Blessed of the Society of Jesus (November 5).
Selected Biographies of Jesuits Saints and Blesseds
St. José de Anchieta
St. Robert Bellarmine
St. Francis Borgia
St. John de Brébeuf
St. Edmund Campion
St. Peter Canisius
St. Peter Claver
St. Claude de la Colombiere
St. Peter Faber
St. Aloysius Gonzaga
St. Roque González
St. Alberto Hurtado
St. Isaac Jogues
St. Stanislaus Kostka
St. Ignatius Loyola
St. Paul Miki
St. Joseph Pignatelli
Blessed Miguel Pro
St. Alphonsus Rodriguez
St. Francis Xavier
Prayers Invoking Saints
Litany of the Saints and Blessed of the Society of Jesus
Prayers by St. Ignatius
Prayer for Generosity
Suscipe (Take, Lord, Receive)
Prayer to Know God's Will
More Prayers by Jesuits and Others
Additional Resources on Ignatian Saints and Holy People
Ignatian Voices
Learn about men and women inspired by Ignatian spirituality. This section of IgnatianSpirituality.com includes biographies of many people who have passed on the tradition since the time of Ignatius. It also includes the works of some of those living Ignatian spirituality today.
dotMagis Posts About the Saints
From the archives of the dotMagis blog.
Blessed Bernardo de Hoyos
The first apostle of the Sacred Heart in Spain was beatified April 18, 2010.
Lives of Later Jesuits
Short biographies of important Northern European Jesuits dated by the year of their death. Rough translation from German.
Loyola Press Saints Resources
Provides biographies, activities, and reflections on many saints.
31 Days with St. Ignatius
Calendar designed to help you get to know St. Ignatius and Ignatian spirituality better, with links to reflections, prayers, videos, and activities.
Mary Ward
Foundress of the Institute of the Blessed Virgin Mary. It was announced in November, 2009, that she would be declared Venerable.
Marie Madeleine d'Houët
Foundress of the Faithful Companions of Jesus.
St. Raphaela Mary of the Sacred Heart
Foundress of the Handmaids of the Sacred Heart of Jesus.
Ven. Anne de Xainctonge
Foundress of the Society of Saint Ursula.