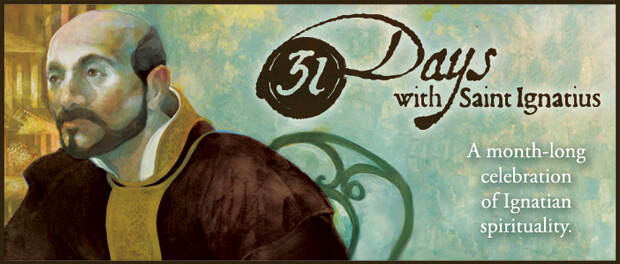 Welcome to the seventh-annual 31 Days with St. Ignatius, a month-long celebration of Ignatian spirituality. In honor of the feast of St. Ignatius Loyola on July 31, we offer a selection of articles, blog posts, and videos to help you explore the riches of Ignatian spirituality.
Get daily reminders starting July 1, 2016, by subscribing to the dotMagis blog.
Day 1
Day 2
Reimagining the Ignatian Examen Flip Book: Praise, Reverence, Service
Day 3
Why Bother Praying the Examen?
Day 4
Kevin O'Brien, SJ, on the Two Standards
Day 5
The Truth and Comfort in Ignatian Spirituality
Day 6
Prayer Is the Sharing of Presence
Day 7
Day 8
Five Things the Spiritual Exercises Taught Me about Jesus
Day 9
Day 10
God as Mystery, God as Neighbor
Day 11
Day 12
How Spanish Class Taught Me About Finding God in All Things
Day 13
Day 14
The Rich Young Man and the Look of Love
Day 15
Three Ingredients in a Recipe for Gratitude
Day 16
Day 17
Day 18
Day 19
Our Human Need for Happiness and Fulfillment (A Letter)
Day 20
Composition of Place on My Patio
Day 21
Day 22
Care of the Person, Care of the Self
Day 23
The Foundation of Heroism: Magis
Day 24
Day 25
Day 26
Day 27
Day 28
Day 29
Day 30
The Spiritual Exercises and the Importance of Looking Back
Day 31
What I Like about Ignatius Loyola
For more celebration throughout July, join us at Facebook.com/IgnatianSpirituality. Use the hashtag #31DayswithIgnatius on your favorite social media, and share the ways you've been touched by St. Ignatius and the spiritual outlook that bears his name.
If you're ready to go deeper into Ignatian spirituality, try the online retreat An Ignatian Prayer Adventure. Or see a selection of Ignatian books from Loyola Press.
Share 31 Days with Saint Ignatius
If you use a graphic on your website, please add a hyperlink to http://www.ignatianspirituality.com/31-days-with-saint-ignatius.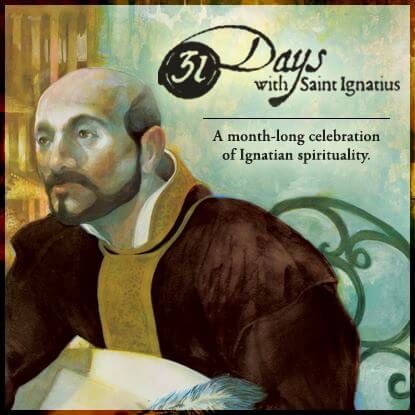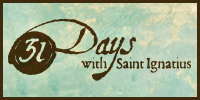 Print Friendly