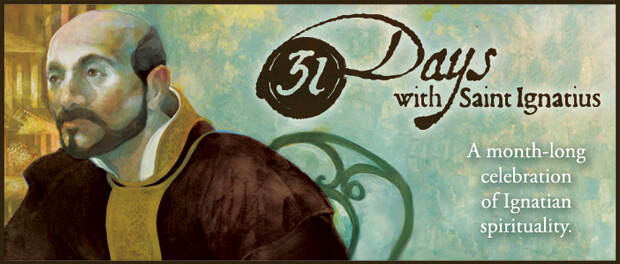 Welcome to 31 Days with St. Ignatius, a month-long celebration of Ignatian spirituality. In honor of the feast of St. Ignatius Loyola on July 31, we offer a selection of articles, blog posts, and videos to help you explore the riches of Ignatian spirituality.
Get daily reminders starting July 1, 2015, by subscribing to the dotMagis blog.
Day 1
If You Are Looking For God, God Will Find You
Day 2
Five Fresh Ideas for Renewing Prayer
Day 3
Prayer Is as Easy as 1, 2, 3—You Can Count on It!
Day 4
Day 5
Day 6
What Gifts We Notice in the Examen
Day 7
Day 8
God Surprises in Peas and Teas
Day 9
Day 10
Day 11
Day 12
Day 13
Finding God When My Son Was Hurt
Day 14
Opening Our Eyes to Contemplation
Day 15
Day 16
Day 17
Day 18
Day 19
Day 20
Day 21
A Lesson in Human Dignity at a Paris Bistro
Day 22
When You Think Someone Is Wrong
Day 23
Day 24
The Examen Always Ends with Hope
Day 25
Day 26
Encountering God in the Unexpected
Day 27
Prayer Brings God into the Messy Rooms
Day 28
Day 29
Forgiveness, Transformation, and Mercy
Day 30
The Contemplation on Divine Love
Day 31
Six Characteristics of Ignatian Spirituality
For more celebration throughout July, join us at Facebook.com/IgnatianSpirituality.
If you're ready to go deeper into Ignatian spirituality, try the online retreat An Ignatian Prayer Adventure. Or see a selection of Ignatian books from Loyola Press.
Link to 31 Days with Saint Ignatius on Your Site